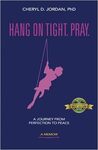 Title
Hang on Tight. Pray.: A Journey from Perfection to Peace
Description
It was a moment in time that would change her life forever. Hang on Tight. Pray: A Journey from Perfection to Peace is a poignant and breathtaking story of a daughter's caregiving journey. The moment that Cheryl received the call that her mom had suffered a severe stroke, her life was turned upside down. As primary caregiver for two and a half years to someone who had lost her language and her ability to walk, Cheryl's resilience and patience were tested as she navigated ineffective healthcare institutions and staff and as she worked to control every aspect of her mom's care. She would find herself immersed in a swirl of ambiguity, volatility, and uncertainty.

Through a very descriptive account of her journey, she provides the reader with an alchemy for responding to trauma and unpredictable events related to caregiving. Weaving together stories from her childhood, from her time as a caregiver, and from her moments of awakening to finding peace, she unknowingly and naturally bridges her knowledge and teachings as a professional coach and change agent to her own personal caregiving role.

Cheryl soon realized that being close to her mom during this critical time, although challenging, was transformational. Caring for her mom would become one of the greatest experiences of her life. She would learn more about forgiving, surrendering to things she could not control, and releasing the need to be perfect. Her story chronicles the strength and importance of community and family during trauma, the unbreakable bond of love between a mother and daughter, and the powerful lessons she would learn, moving her closer to a place of peace. Her story gives hope to other caregivers and anyone encountering disruptive change.
Department
Leadership, Management & Business
Publisher
Hasmark Publishing International
Disciplines
Counseling | Counseling Psychology | Family, Life Course, and Society | Leadership Studies
Recommended Citation
Jordan, C. D. (2023). Hang on Tight. Pray.: A Journey from Perfection to Peace. https://aura.antioch.edu/stubooks/56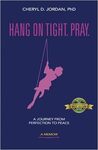 COinS