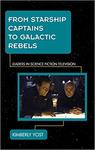 Title
From Starship Captains to Galactic Rebels: Leaders in Science Fiction Television
Description
Real-world leaders hold the fates of companies, armies, and nations in their hands, but the leaders portrayed in science fiction play for larger stakes. Their decisions determine the survival of species, planets, or reality itself. They tend, therefore, to be larger-than-life characters like Doc Savage, Obi-Wan Kenobi, and Captain James T. Kirk.

In From Starship Captains to Galactic Rebels, Kimberley Yost brings the principles of leadership studies to bear on characters from a quarter-century of classic science fiction television series, examining how their adventures can illuminate the challenges of real-world leadership. These in-depth case studies cover a full range of science-fictional leaders—from conventional heroes such as Jonathan Archer of Star Trek: Enterprise to William Adama and Laura Roslin, the dark, conflicted protagonists of Battlestar Galactica. Charismatic rebels like Malcolm Reynolds of Firefly and the ragtag fugitives of Farscape stand alongside pillars of the establishment like John Sheridan of Babylon 5. In her analysis, Yost considers emerging, flawed, and failed leaders as well as successful ones; women as well as men; and aliens as well as humans.

An insightful examination of how leadership is represented on the small screen, From Starship Captains to Galactic Rebels will appeal not only to fans of televised science fiction but also to those grappling with the problems of leadership, regardless of their species.
Department
Leadership, Management & Business
Publisher
Rowman and Littlefield
Keywords
Popular Culture, Science Fiction Television Programs
Disciplines
Fiction | Interdisciplinary Arts and Media | Leadership Studies | Visual Studies
Recommended Citation
Yost, K. S. (2013). From Starship Captains to Galactic Rebels: Leaders in Science Fiction Television. https://aura.antioch.edu/stubooks/25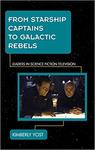 COinS