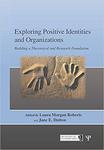 Title
Exploring Positive Identities and Organizations
Description
In the new world of work and organizations, creating and maintaining a positive identity is consequential and challenging for individuals, for groups and for organizations. New challenges for positive identity construction and maintenance require new theory. This edited volume uncovers new topics and new theoretical approaches to identity through the specific focus on positive identities of individuals, groups, organizations and communities.
This volume aims to forge new ground in identity research and organizations through a compilation of new frame-breaking chapters on positive identity written by leading identity scholars. In chapters that build theoretical and empirical bridges between identity and growth, authenticity, relationships, hope, sustainability, leadership, resilience, cooperation, and community reputation and other important variables, the authors jumpstart an exciting domain of research on new ways that work organizations are sites of and contributors to identities that are beneficial or valuable to individuals or collectives.
This volume invites readers to consider, "When and how does applying a positive lens to the construct of identity generate new insights for organizational researchers?" A unique feature of this volume is that it brings together explorations of identity from multiple levels of analysis: individual, dyadic, group, organization and community. Commentary chapters integrate the chapters within each level of analysis, illuminate core themes and unearth new questions.
The volume is designed to accomplish three objectives:
To establish Positive Identities and Organizations as an interdisciplinary, multi-level domain of inquiry
To integrate a focus on Positive Identity with existing theory and research on identity and organizations
To map out a vibrant new research territory in organizational studies .
This volume will appeal to an international community of scholars in Management, Psychology, and Sociology, as well as practitioners who seek to generate positive identity-related dynamics, states and outcomes in work organizations.
Department
Leadership, Management & Business
Publisher
Psychology Press
Keywords
Positive Psychology, Identity
Disciplines
Leadership Studies | Organizational Behavior and Theory
Recommended Citation
Morgan Roberts, L. (2009). Exploring Positive Identities and Organizations. https://aura.antioch.edu/facbooks/74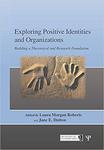 COinS