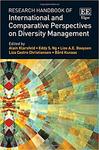 Title
Research Handbook of International and Comparative Perspectives on Diversity Management
Description
This Research Handbook offers, for the first time, a comparative approach to current diversity management concerns facing nations. Spanning across 19 countries and pan Africa, it covers age, gender, ethnicity, disability, sexual orientation, national origin, and the intersection of various dimensions of diversity. The multicultural and multi-country teams of contributors, leading scholars in their own countries, examine how the various actors react, adopt, and manage the different dimensions of diversity, from a multitude of approaches, from national to sectoral and from tribes to trade unions, but always with a comparative, multi-country perspective.
This book represents the efforts of multicultural and multi-country teams of contributors who are prominent diversity scholars in their respective countries. Offering comparative approaches to diversity management and comparative public policy on multiculturalism, it explores comparisons at both the macro-environmental and meso-organisational levels. Topics covered include Pan African tribal diversity management, diversity in the South Pacific, youth labour market exclusion and LGBTQ rights in selective countries.
This comprehensive review of diversity management will appeal to both academics and graduate students, as well as public policy makers, industry practitioners, top leadership, middle managers and HR managers.
Department
Leadership, Management & Business
Keywords
Diversity, Workplace
Disciplines
Leadership Studies | Management Sciences and Quantitative Methods | Organizational Behavior and Theory | Race and Ethnicity
Recommended Citation
Booysen, L. A. (2016). Research Handbook of International and Comparative Perspectives on Diversity Management. https://aura.antioch.edu/facbooks/71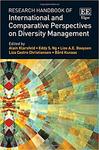 COinS