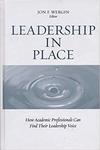 Title
Leadership in place : how academic professionals can find their leadership voice
Description
In this stimulating collection of stories, ten academic leaders reflect from personal experience on leadership in place―an emergent mode of leadership that brings people together in order to effect organizational change. Originating from diverse sectors of the academy, each of the book's contributors brings a fresh and deeply human perspective on academic leadership theories and their effective applications.
Leadership in Place calls for a shift in attitude about leaders and leadership. It departs from the hierarchical view that academic leadership flows from a leadership position, and instead embraces a more lateral view where leadership roles are available to everyone. It calls for a rethinking of how our colleges and universities are led and organized by discussing the following:
Importance of strong academic communities in preserving the integrity of academic programs
Empowerment of part-time faculty by combining adaptive and transformative learning models
Opportunities for, benefits of, and challenges in collaborative leadership
Problems that can emerge in times of leadership transitions and possible solutions
Concept of leadership as an attribute of the many rather than the few
Advocating for academics to reengage and recommit to their institutions, the book creates an agenda for what higher education must do to create conditions under which leadership in place is the norm rather than the exception.
Department
Leadership, Management & Business
Publisher
Ankor Publishing
Disciplines
Educational Leadership | Higher Education | Higher Education Administration | Leadership Studies
Recommended Citation
Wergin, J. (2007). Leadership in place : how academic professionals can find their leadership voice. https://aura.antioch.edu/facbooks/60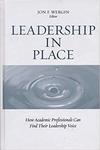 COinS