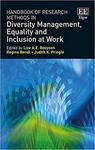 Title
Handbook of Research Methods in Diversity Management, Equality and Inclusion at Work
Description
Equality, diversity and inclusion (EDI) have become features of organizations as a result of both legal and societal advances as well as neoliberal economic reasoning and considerations. While current research approaches frequently fall short of addressing the challenges faced in EDI research, this benchmark Handbook brings coverage of research methods in EDI up to date, and advances the development of research in the field.
Bringing together well-known academics and researchers, this Handbook is a distillation of current and novel research in the field of EDI. Chapters present groundbreaking new research and methodological perspectives on international, regional and national issues, from equal opportunities and gender mainstreaming to managing diversity in legal, political and socio-economic contexts. Alongside this, the authors discuss new analytic directions to advance empirical EDI research. This Handbook will help to shape the present and future EDI discourse.
The book is an invaluable addition to the current literature, particularly for students of EDI and researchers working in the fields of human resource management, strategic management and organization, and culture and change management as well as entrepreneurship and marketing.
Department
Leadership, Management & Business
Keywords
EDI, Equality, Diversity, Inclusion, Corporate Culture
Disciplines
Leadership Studies | Organizational Behavior and Theory | Work, Economy and Organizations
Recommended Citation
Booysen, L. A. (2018). Handbook of Research Methods in Diversity Management, Equality and Inclusion at Work. https://aura.antioch.edu/facbooks/56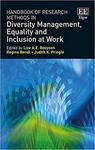 COinS