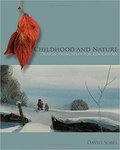 Title
Childhood and nature : design principles for educators
Description
Public discussions of global climate change and other threats to the planet are making children more aware of environmental issues. As increasing numbers of kids come to school wishing to take action, educators want to know how to teach in a way that fosters a love of nature and an understanding of the complexity and seriousness of these issues.
In Childhood and Nature, noted educator David Sobel makes the case that meaningful connections with the natural world don't begin in the rainforest or arctic, but in our own backyards and communities. Based on his observations of recurrent play themes around the world, Sobel articulates seven design principles that can guide teachers in structuring learning experiences for children. Place-based education projects that make effective use of the principles are detailed throughout the book. And while engaged in these projects, students learn language arts, math, science, social studies, as well as essential problem-solving and social skills through involvement with nature and their communities.
The pressures of test preparation, standards, and curriculum frameworks often reduce the study of nature and the environment to a set of facts and general concepts. However, as Childhood and Nature demonstrates, linking curriculum with an engagement in the real world not only provides students with the thinking skills needed for whatever test comes their way, but also helps them grow into responsible citizens and stewards of the earth.
Publisher
Stenhouse Publishers
Keywords
human ecology, outdoor education, education, environmental ethics
Disciplines
Education | Outdoor Education
Recommended Citation
Sobel, D. (2008). Childhood and nature : design principles for educators. https://aura.antioch.edu/facbooks/45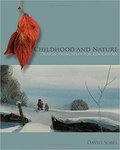 COinS