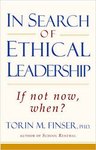 Title
In search of ethical leadership : if not now, when?
Description
Recently, a chasm has opened between many of our leaders and those who work for them. We have witnessed the sacrifices of airline workers and the unconscionable compensation of top executives; the ideals of Olympic Games and the conduct of certain committee members; the sacrament of religion and the priests who abused the sanctity of the human body; the needed services of United Way and their extravagant executive "perks"; and hopes for a democratically fair system versus the 2000 presidential election.
The values of hard work, inalienable rights, fairness and public service held by most Americans is often lacking in our leaders. An ethical chasm has opened up in our midst, and unless we do something, our future will fall victim to our inadequacies. Our standing in the world in years to come will depend less on our military might, and more on our moral strength.
We need to begin a united search for ethical leadership. As we take Torin's journey of discovery with him, we see the roots of this loss of ethical leadership and begin to understand that there is a way out of this situation―by applying the spiritual principles of Rudolf Steiner's spiritual science. In Search for Ethical Leadership is grounded with practical tools that offer us real hope for the future of ethical leadership. Contents:
The Leadership Challenge
Children & Ethical Leadership
Character Development
Historical Considerations
Practical Aspects
Inner Dimensions, or Ethics of the Heart & Soul
Sun and Moon
The Templars
The Hidden Temple
City
Great Barrington, MA
Keywords
Waldorf method of education, education, moral education, leadership
Recommended Citation
Finser, T. (2003). In search of ethical leadership : if not now, when?. https://aura.antioch.edu/facbooks/36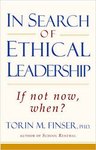 COinS